Front Tooth Implant

Whittier, CA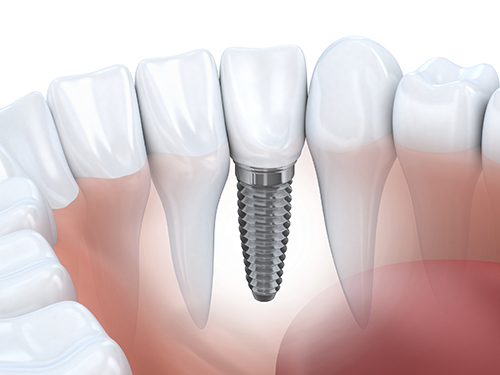 Losing a front tooth has a significant impact on the quality of your smile. It can also cause you to become self-conscious, leading you to hide your smile from those around you. In addition to the effects on your smile, losing a front tooth affects your ability to bite food as well as affects your speech. The loss of a front tooth also causes bone loss in the jaw, which alters your tooth alignment and your bite. At Simon K. Choyee, DDS, Inc., we can restore your smile, your oral health, and the functions of your mouth with a front tooth implant.


What Causes the Loss of a Front Tooth?

There are some different issues that can cause the loss of a front tooth. These issues include:

| | |
| --- | --- |
| • | Facial trauma. This can occur due to such issues as a fall or a sports injury. |
| • | Gum disease. |
| • | Severe tooth decay. |


Dental implants are a modern-day treatment designed to replace missing teeth. This unique treatment provides you with an alternative to traditional bridges and dentures. Implants involve the use of small titanium posts, which are surgically placed into your jawbone. As you heal from the procedure, your bone fuses to the posts in a natural process called osseointegration. Once you have fully healed, the posts become strong, stable replacement roots that hold your dental restorations in place. Implants are incredibly versatile and can be used in some different situations, including replacing a front tooth.


Placing Your Front Tooth Implant

Placing your front tooth implant requires a surgical procedure, which is done under a local anesthetic as well as sedation. Surgery begins with an incision in your gums, exposing the bone underneath. A hole is then drilled into your jawbone, and the implant post is placed inside. A temporary tooth is affixed to the post, and you begin the recovery process.

Recovering from implant surgery can take several weeks. As you recover, your bone gradually fuses to the post, integrating it into your jawbone. Once you have fully healed, we then begin the process of placing your final restoration. This typically requires two appointments. During the first appointment, the temporary tooth is removed and an abutment, or connector, is placed. Next, an impression of your mouth is taken. At your second appointment, after your final restoration has been created, we check the crown for fit and secure it into place with a small screw.


Benefits of a Front Tooth Implant

A front tooth implant provides several significant benefits.

| | |
| --- | --- |
| • | Your smile is restored. The crown looks exactly like the rest of your natural teeth. The crown, which is made from ceramic, is stained to blend in seamlessly with the rest of your teeth. Filling in the empty space restores the quality of your smile. |
| • | You can bite your food more effectively. |
| • | Your speech is perfectly restored. |
| • | There is no need to alter the structure of your adjacent teeth. |
| • | Your restoration is much more comfortable. The tooth is supported by the implant post rather than your adjacent teeth. |
| • | The post restores stimulation to your jawbone. This stops and prevents bone loss in your jawbone. Your dental implant is designed to be a long-term, even permanent, the solution to tooth loss. |

If you have lost a front tooth, a front tooth implant can restore the appearance of your smile as well as the functions of your mouth and your oral health. Call Simon K. Choyee, DDS, Inc. today at (562) 947-4781 to learn more and find out if a front tooth implant is right for you.